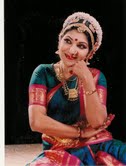 Rathna Kumar is the recipient of the Sangeet Natak Akademi Award (Akademi Puraskar) for the year 2010, awarded by Government of India. This is the most prestigious honor in the filed of performing arts, given to nationally and internationally reputed artists in recognition of their outstanding contribution and service to Indian dance, music and theater. The Akademi Awards, since their inception in 1952, symbolize the highest standard of excellence and achievements on a national basis, and also recognize sustained individual work and contribution to the practice and appreciation of the arts through performance, teaching and scholarship.  This is an official recognition that comes from India's national academy for music, dance and drama, and this is the very first time that an artist from outside India has won such recognition, and the Houston community and many admirers all around the world are rejoicing in Rathna Kumar's latest achievement.
A recipient of the National Endowment for the Arts Grants for Heritage & Preservation and Arts Learning, a six-time recipient of Individual Artist Grants (for Choreography as well as Projects) and winner of two Fellowships from the Cultural Arts Council of Houston/Harris County, Rathna is also the winner of many other awards and titles:
Nomination to the Texas Women's Hall of Fame & Certificate of Appreciation from Texas Governor Rick Perry (2002).
The Texas Institute for Arts in Education's coveted Apple Award (2000)
Congressional Certificate of Appreciation from Sheila Jackson Lee
Best Dancer of the Year (Music Academy, Chennai, India – 2000)
Outstanding Community Service Award (Houston Metropolitan Transit Authority – 2000)
Viswa Kala Bharati (Bharat Kalachar, Chennai – 1999)
"Outstanding Contribution to the Arts" (TANA – 1985)
Outstanding Service to the Arts (1981 – from Houston Mayor Jim McConn)
 To mention a few other accomplishments, she created an opportunity and introduced many local practicing artists, to hone their artistic skills at 'Anjali' and become teachers in their own right.  In 1994 Rathna founded Samskriti, Society for Indian Performing Arts, to showcase the best among Indian dancers, musicians and stage actors to Houston audiences, and this city has witnessed some of the best high caliber performances under Samskriti's banner. Rathna was the curator and presenter of the first ever North American dance conference in 2001 (Indian Dance in the Diaspora – Traditions & Innovations) and the first Kuchipudi conference in 2003.  She  alsopenned  reviews and articles regularly to the local newspapers and  has  authored,  two illustrated books on the dance techniques of Bharatanatyam and Kuchipudi.
Her recent presentation on Kuchipudi Abhyaasa Sampradaya, at the Sri Krishna Gana Sabha's prestigious Natya Kala Conference, held during the 2010 Annual Chennai Music and Dance Festival, received rave reviews and accolades from dancers, critics and stalwarts who attended the conference from all around the world.  Not only her numerous achievements, but her delightful personality, amazing creativity, unquestionable artistic merit, and her respect for and pride in her rich cultural tradition – these are the qualities that set Rathna apart. Anil Kumar, Rathna's husband, has been a pillar of support in all her endeavors, and the two of them have been an epitome of goodwill, generosity and kindness towards one and all.. Rathna and Anil have two sons, Chetan and Kedaar, a daughter-in-law, Miya, and two grand daughters, Carissa and Anjali.
For a more detailed list of awards and honors, please visit Dr. Rathna Kumar's website.