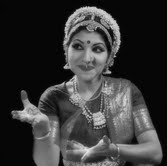 Rathna Kumar is an internationally renowned danseuse, teacher and choreographer, and the Founder-Director of the Anjali Center for Performing Arts, the first Indian dance school in Texas, established in 1975, and one of the first in the US.
Rathna Kumar, Houston's prominent dance icon, is the foremost pioneer on the Indian arts scene, having established, 35 years ago, in 1975, the first institute of its kind in Texas – the AnjaliCenter for Performing Arts. Many in this country and elsewhere consider Rathna as the Indian cultural ambassador to the Unites States. She is an outstanding teacher, brilliant choreographer and exceptional dancer, always keeping in pace with the times but with a deep respect for tradition and classicism. From humble beginnings, the AnjaliCenter has grown into a comprehensive art institute and a formidable training ground for young and talented people in a variety of Indian art forms. The phenomenal strides made by Anjali in these past three and a half decades mark it as a microcosm of joy, energy, awareness, sense of accomplishment and integrity.
Rathna has trained over 2000 students from different ethnic backgrounds from all over the US, and has been recognized by many organizations – Young Audiences of Houston, Miller Theater Advisory Board, Texas Commission on the Arts, the National Endowment for the Arts, and UNESCO's International Dance Council – as a true cultural ambassador of Indian performing arts in the US. She is the author of two illustrated books on the fundamental techniques of Bharata Natyam and Kuchipudi.
Rathna has taught Master Classes and courses in dance at the University of Houston, Houston Community College, High School for Performing and Visual Arts, Houston Ballet Academy, Trinity University (San Antonio), Towson State College (Maryland), University of Ann Arbor (Michigan), Academy of Fine Arts (London , UK), University of Texas (Austin and Dallas). She is currently teaching a credit course in Bharata Natyam at Rice University, Houston. She has also been a Teaching Artist with the Young Audiences of Houston for the past twelve years.